Life is a trip,

travelling is living twice
Moka was born from our passion for good food, yoga, Portugal's beautiful nature and Ericeira's amazing waves.
Our dream was to create a place where people from all over the world could meet and share these same passions, where we could provide them with the atmosphere and the experiences we have always looked for on our own travels.
This special place gives us the chance to meet new people every day with their beautiful stories, but also to try to do one of the things Italians are best at: making guests feel at home – away from home!
*The House*
The house is a traditional Portuguese villa with a large courtyard and garden, as well as a terrace with a view of the ocean. Beyond the hills to the east, you can see the impressive Palácio Nacional de Mafra, a UNESCO World Heritage Site.
Moka can host a maximum of 20 people and offers double rooms, twin rooms, private rooms, and shared rooms (four to six people). All bathrooms are shared, with the exception of one ensuite double room on first floor. Bed linen and towels are provided on your arrival. In the big dining room, you can find a personal pantry and a kitchenette to prepare your lunch.
Yoga lessons, workshops and massages take place in our 66m2 Mongolian yurt, which you are also free to use outside of these scheduled activities.
Our courtyard is the social hub of Moka – a great place to chat with other guests, dine outdoors and enjoy the open air cinema on warm evenings/make long-lasting memories! But if you are searching for some peace and quiet you'll always find a nice spot in the garden, swinging in the hammocks among the fruit trees.
*Our food*
As we are Italian, food is always on our mind and plays a central role in our day!
Every day we serve a healthy and tasty breakfast with fresh fruit salad and homemade vegan cakes. For dinner, we offer a vegetarian take on classic Italian recipes. We use local, seasonal products in all our meals in order to reduce food miles, which benefits your health and the local community!
We try to pass our love for food onto you through our dinner menu: you'll be treated to focaccia, lasagne, risotto and other mouth-watering Italian dishes!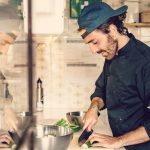 David Macaluso aka Mac is our Italian cook and he has been part of our team since 2016.
He started cooking at Moka for pleasure, sharing his family's recipes with us and this passion then turned into a job. He never stops studying and improving his skills, taking training courses every year to learn new techniques and delicious new dishes. He's also a talented surfer, if he's not in the kitchen you'll probably find him in the line-up!
*Where we are*
Moka is on top of a hill just a ten minute drive from Ericeira, a charming fishing village, coloured in calming white and blue tones. It has a host of great nightlife options, with many bars and restaurants. Each year more and more tourists are taking advantage of what the town has to offer. You can try the fresh fish that arrives daily at the harbor and experience the warm welcome of the locals.
Closer to Moka, there is a fantastic vegetarian pizzeria just a few steps from the house, as well as other restaurants, bars and a supermarket with everything you need.
Getting around is very easy: daily transfers to and from the beach and Ericeira are included in our packages! You can also use our mountain bikes for free, take the bus which stops very close to the house or take the scenic route and reach the two nearby beaches on foot along beautiful trails.
If you'd like to explore some of the stunning Portuguese landscape, you can plan a hike with us in Sintra-Cascais Natural Park, which begins near the house.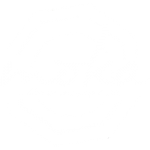 ADDRESS
Praceta dos Sete Moios 11
Baleia 2655-128 Ericeira
Portugal